Great lessons are like powerful speeches; they begin with a hook. Attention-grabbing devices set a tone for a speaking situation, whether that be a two-minute speech or sales pitch, or a 40-minute lesson.
Audiences find comfort in the familiar. They seek patterns and expect to be drawn into the communicative exchange. Being in hybrid learning with students coming into the room and hopping onto Zoom sporadically for five minutes can leave even the most organized people feeling disoriented. Building in a hook to each lesson can help calm the chaos.
While students are working on a hook or bell-ringer activity, don't forget about the energy of the room. When students walk into class, the energy in the room sets a clear tone and expectation for the pacing and the overall purpose of the course. Greet students with a smile or with the energy of a smile underneath a mask. Say their names - each and everyone of them. Make sure they know that they are seen and heard - even if they do not unmute. Get in the habit of taking that time at the beginning of the class - even if it eats into a minute or two of instructional time. Those interactions are more important than one extra practice problem or discussion question.
How can we get them started on learning while we are greeting and admitting both digitally and in-person?

Enter Pear Deck, Padlet, or a digital tool that can keep students working and make learning visible for all students no matter where they are learning. Using a digital platform helps all students active and engaged while I individually greet the Zoomers and the roomers. Keeping students actively connected to a task can help them prepare for learning and serves as a wonderful time to do a social-emotional check-in with them.
As students enter the room physically or digitally, create one organized location where learning material is posted. Whether that is the projector screen, the board at the front of the room, or an LMS homepage - having one location on which students are expected to go each day creates that routine. This process also frees teachers to be greeters instead of frazzled jugglers attempting to keep all the balls in the air.
Make learning fun.

Having to clear desks between periods and working to social distance in our classrooms has created a great deal of stress. Not having all students in the room at one time and having to avoid group work has taken some of the fun out of learning. Even though teachers have had to reframe and rethink the learning experience and environment, we can still sprinkle the fun back into school. Using bell ringers that ask goofy questions, require creativity, and allow students to be silly creates conversation. Whether they be celebrating each other or laughing at a drawing one of their friends did, this sense of silliness brings a class together.
My favorite intro slides and activities have little to do with class learning, but the responses can be used throughout a lesson. For example, today, students shared what type of superpower they wished they had and why they would pick that power. This silly question served connections to course content when we talked about smashing cell phones when they distract listeners like the Incredible Hulk or why we are so intrigued with stories as many of us are binge-watching WandaVision. Even when the hook doesn't seem connected to content, we can develop connections. Remember, once we get students talking about anything, they are far more likely to unmute and speak up when discussing course content later in the period.
Say it one more time for the kid in the back.
Review the lesson objectives. Even when routines are established, students are learning everywhere. They are facing internet issues, may have distractions around them, or may have social-emotional concerns for a myriad of reasons. Students (and teachers alike) are also just tired. Repeating those objectives at the beginning of class and then at the end of class helps reiterate expectations, centers students, and serves as a reminder for what is coming next. While many students may get used to a routine and know where to access due dates and daily course work, they still will appreciate clarifying moments at the beginning and the end of class.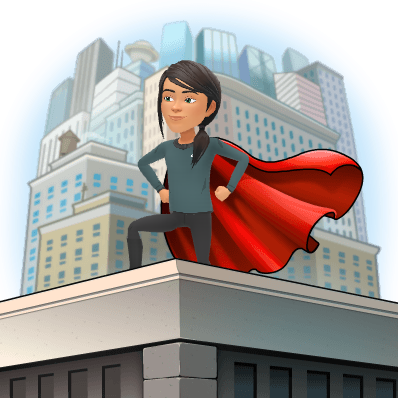 Great lessons end where they began - with a hook. Attention-grabbing devices get people talking and set a tone for a class. When we bring the energy at the beginning of class, students are more likely to tune in. That energy can carry us through navigating teaching roomers and Zoomers alike. It doesn't take superhuman strength to forge meaningful relationships with kids - although when we foster those relationships, we can become superheroes in our students' eyes. Don't forget to take those few minutes amidst the chaos to create those moments for your students.